Life's short … so our advice is to go big before you go home and combine two peak experiences into one epic adventure. First, fall in love with the natural beauty of Washington State's tallest peaks, majestic national parks, rugged coastline, and charming towns with this Ultimate Pacific Northwest Road Trip itinerary. Then trade the open road for the open seas. And board your cruise to relax in Alaska and discover stunning glaciers, captivating wildlife, and quaint seaside towns.
Here's a roadtrip itinerary that we created just for you that can be combined (or not) with an Alaska cruise.
Fly into SEA
Your adventure begins when you land at Seattle–Tacoma International Airport (SEA). The Port of Seattle owns and operates SEA, gateway to the Pacific Northwest.
SEA just opened the International Arrivals Facility (IAF) in 2022 to meet the growing demand for international service, enhance the passenger experience, and to advance Seattle as a leading tourism and business gateway. This new facility includes one of the longest aerial walkways over an active taxiway in the world, views of Mt. Rainier to welcome you, and a 450,000-square-foot grand hall for expedited baggage claim and customs processing. Here's more information:
Pick up your rental car
After landing, collect your bags at baggage claim. Head out the baggage claim doors near baggage claim at either end of the terminal and take a shuttle bus to the separate rental car facility. Shuttle buses operate on a 24 hour a day schedule. Two passenger pick-up areas are located outside baggage claim at the north and south ends of the main terminal.
Do a road trip
Known for snowcapped mountains, verdant rainforests, and a spectacular coastline, the Pacific Northwest is one of the most beautiful regions in the United States. This itinerary, developed just for you, showcases Washington State's unique attractions and experiences like charming seaside villages, stunning beaches, acres of lavender, plus Olympic and Mt. Rainier National Parks.
You'll fall in love with the unique mix of the great outdoors, small rural towns, fresh farm- to- table cuisine, and Native American culture. This ultimate fly/drive/cruise tour is an ideal grand finale after a cruise to Alaska.
Featured parks: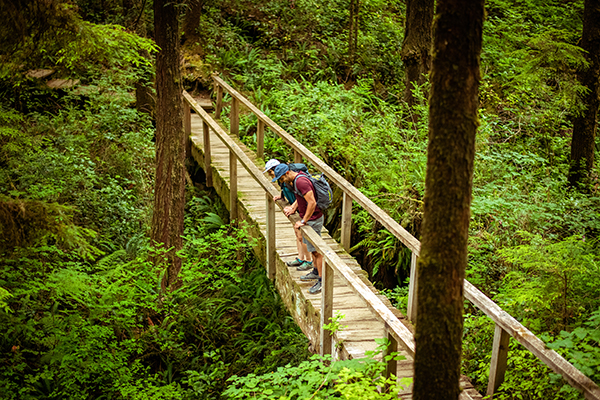 This UNESCO World Heritage site is 95% designated wilderness and home to 25 native species. You'll find an unforgettable spectacle of glacial lakes, natural hot springs, rugged mountain peaks, wild coast beaches, and lush rainforests. With nearly a million acres to explore and iconic sites from lakes to high mountains, the park presents a smorgasbord of exploration options.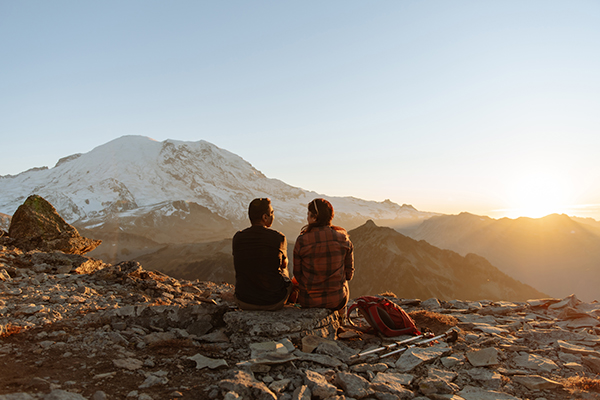 One of the world's oldest national parks, Mt. Rainier National Park features glaciers, alpine meadows, forests, waterfalls, and lakes and some of Washington State's most stunning scenery. Ascending to 14,410 feet *4,392 meters) above sea level, the active volcano, Mount Rainier, is home to the most glaciers of any peak in the contiguous U.S., spawning five major rivers. The icy volcano is ringed by meadows full of wildflowers, and ancient forests teeming with wildlife.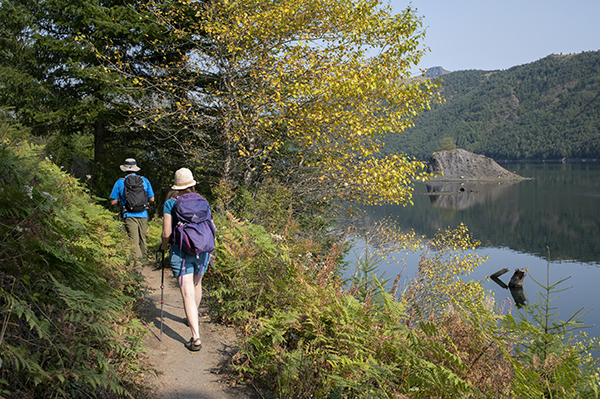 Visit the Johnston Ridge Observatory for the story of one of the world's most famous volcanic eruptions. Listen to ranger talks, observe the landscapes, or set off on a hike.
Featured towns: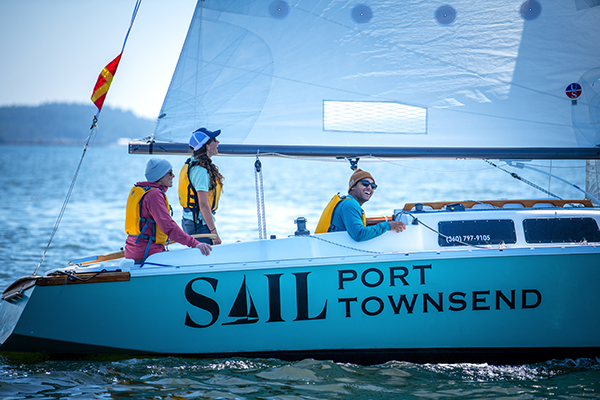 Take a walk back in history in this charming village by the sea, with its Victorian architecture, maritime heritage, and boutique shops and galleries.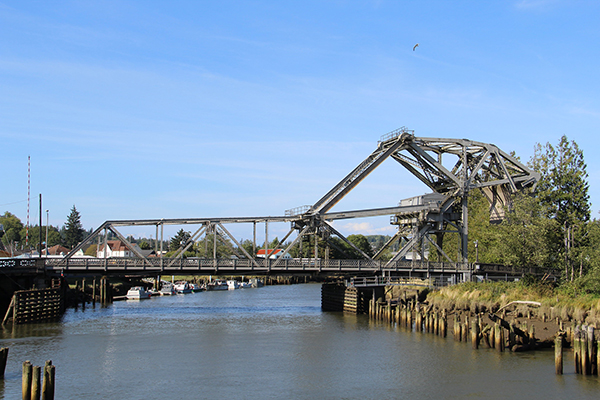 This peaceful town is the gateway to the Olympic Peninsula and the hometown of Kurt Cobain, the lead singer of Nirvana.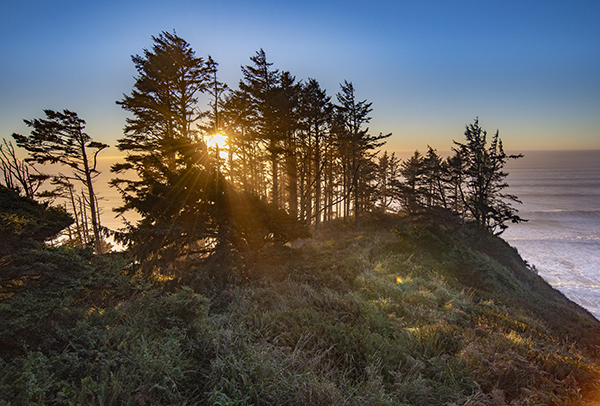 Experience the 28-mile peninsula, bordered by ocean, bay, and river. Taste the Pacific Northwest in fresh seafood prepared by local chefs.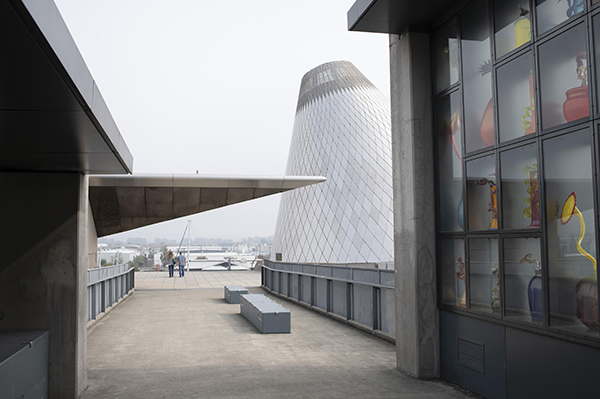 This city is known for its car museum, bridge of glass art, and Museum of Glass. It's full of charm with amazing food, sights, shops, and parks.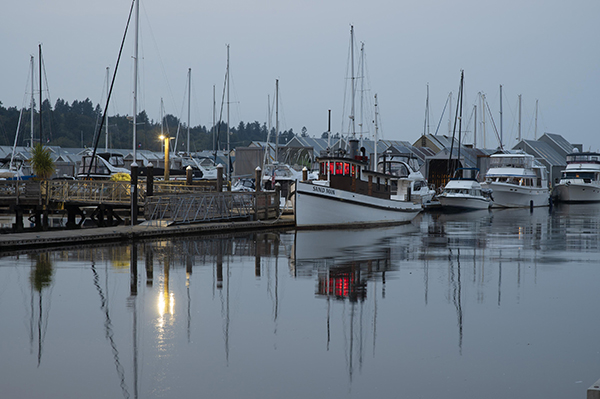 Take time to visit Olympia, the Washington state capital, and home to coffee roasters, brewpubs, and farm-to-table restaurants. Handcrafted is a way of life here!
This nine-day itinerary will show you the best of the Northwest.
Itinerary
Day 1: Drive through history to Port Townsend
Disembark cruise ship in Seattle
Pick up rental car in downtown Seattle
Catch the Washington State Ferry to Bainbridge Island
Drive 15 minutes to Suquamish Museum
Visit Finnriver Farm & Cidery
Arrive in Port Townsend, a charming village-by-the-sea with an artistic soul. It's steeped in fascinating history, from its early Native American roots to its Victorian architecture and maritime legacy, while boasting two National Historic Landmark Districts
Day 2: Take time for lavender fields, mountains, and lakes
Depart Port Townsend for Sequim
Visit Sunshine Herb & Lavender Farm
Have a picnic with a view at Olympic National Park's Hurricane Ridge
Stay in the historic Lake Crescent Lodge
Day 3: Explore the natural beauty of the Olympic Peninsula
Walk to Marymere Falls
Have a picnic in Forks, the location for the Twilight novels
Drive to the Hoh Rainforest, one of the largest temperate rain forests in the USA
Feed your Instagram at Ruby Beach, one of the most photographed beaches on the west coast with its sea stacks, huge surf-tossed logs, and bald eagles
Spend the night at scenic Kalaloch Lodge
Day 4: Feast on ocean views and fresh seafood 
Drive to Aberdeen, Washington, the childhood home of Kurt Cobain
Walk with ocean views on the longest silver sand beach on the West Coast
Enjoy world famous and locally harvested seafood and shellfish
Visit Cape Disappointment Park, the graveyard of the Pacific, with a history of more than 2,000 shipwrecks
Explore Oysterville, on the National Register of Historic Places
Day 5: Step back in Oregon history and enjoy a modern city
Drive to Astoria, Oregon, the last stop for the Lewis and Clark Expedition
End your day in Portland
Day 6: Sample the delights of the Rose City
Portland is known for its parks, beautiful gardens, microbreweries, and coffeehouses
Day 7:  Explore Washington volcano and city life
Join an interpretive talk at Mt. Saint Helens, scene of the most famous volcanic eruption in modern history
Explore Olympia, where hand-crafted is a way of life in its coffee roasters, brewpubs, and eateries
Visit Tacoma for the car museum and Bridge of Glass
Day 8: Bliss at high altitude
Drive to Crystal Mountain, take the gondola to unforgettable views of the mountain, and dine at the highest elevation restaurant in the state
Drive to 6,400 feet (2,300 meters) for an epic view from the Sunrise Visitor Center, the highest point in the national park where vehicles can drive
Download the FlySEA App to get updated information on your flight and checkpoint wait times before you head to the airport.
Day 9: Return the rental car and head out
Transfer from SEA Airport to your Cruise Terminal
There are four ways to get from the airport to the cruise terminals:
1. Catch a ride: App-based rideshares and taxis are located on the third floor of the airport parking garage
2. If it's your departure day and you purchased a transfer from your cruise line for bus transportation from the airport to the cruise terminal, go to the cruise lobby on the ground floor of the parking garage. You can get directions from your current location by searching for "cruise lobby" in the interactive map.
3. LINK Light Rail is an inexpensive transportation option that takes you from the airport to Westlake Station in downtown Seattle. From the station, rideshare or taxi services can take you directly to your terminal. Approximate travel times from Westlake Station:
To Bell Street Cruise Terminal at Pier 66: Six minutes by car; 20 minutes by foot
To Smith Cove Cruise Terminal at Pier 91: 15 minutes by car
4.  Airport Shuttle services found on the SEA Airport site
If you're heading home, have a great journey and we hope to see you again!
Head for the open seas
Experience the natural beauty of Alaska, from "calving" glaciers to snowy peaks stretching toward the sky, to magnificent wildlife and small towns boasting unimaginable history. You won't want to miss exploring the Last Frontier.
Cruise lines that call Seattle home for seven-day roundtrip Alaska cruising include:
Visit the Port's website for up-to-date information on COVID-19 safety and protocols at the cruise terminals.
The two downtown cruise ship terminals, Bell Street and Smith Cove, make Seattle ideal for Alaska or Pacific Northwest cruises. The Port of Seattle recently received the Cruise Critics Award for the Best North American Home Port and the Top-Rated Destination for the U.S. and Canada.
Bell Street Pier 66
Located downtown along Seattle's waterfront, Bell Street Pier is home to Norwegian Cruise Line and Oceania Cruises. Pier 66 is walking distance from iconic city landmarks such as Pike Place Market, the Seattle Aquarium, and excellent restaurants.
Smith Cove Pier 91
Smith Cove is home port to Carnival Cruise Line, Celebrity Cruises, Holland America Line, Princess Cruises, and Royal Caribbean International. The terminal is a 15-minute taxi ride from the city's retail core and is closer to trendy districts like Ballard with its historic locks, salmon ladder, Fishermen's Terminal, and hip eateries.
Enjoy Seattle luggage free
After your cruise (and if you are flying out of Seattle on a U.S. domestic flight), make your last day hassle free with the complimentary Port Valet program. You can sign up on board and check your luggage directly from your cabin to your domestic (only) U.S. flight and enjoy your last day in Seattle without dragging your luggage around.
At SEA Airport, pick up last-minute gifts at an eclectic mix of bookstores, gift shops, designer brands, and local goods.
Photo credit: All photos courtesy of the State of Washington Tourism Office